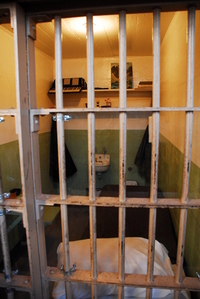 Recently, I won a Source of Funds hearing at the Maywood Courthouse.  At my client's initial bond hearing, the judge required that my client prove the source of funds prior to being allowed to post the required amount of the cash bond.  Immediately after the bond hearing I was contacted by my client's family and hired to do whatever I could to get my client out of jail.  I immediately got to work and today, my client is a free man. Here's how this case started and how I was able to get him released.
My client was pulled over in his vehicle by the Chicago Police.  After he was pulled over the police officer determined that his license had been suspended and he was placed under arrest.  His vehicle was subsequently searched and the police recovered approximately 2 pounds of marijuana and about 120 grams of mushrooms from inside his vehicle.  The arrest occurred late on Friday so he was taken to Central Bond Court at 26th and California on Sunday.  At the bond hearing the Judge set the bond at $10,000 cash.  The state filed a Petition requiring proof of Source of Funds, and the court granted their request.  Source of Funds is a procedure by which the Court will require proof that the money that will be posted for a bond is money that was lawfully obtained.  The law does not want drug money to be used to bond someone out of jail.  Prosecutors frequently request such proof in drug cases in which they believe that the defendant is a drug dealer.  Based on the amount of drugs found in our client's vehicle, the Court felt that there was enough evidence to believe that my client was in the business of selling drugs.  When the prosecutor files such a request and the Court grants their request, then the burden shifts to the Defendant to file a Petition requesting that the Court conduct a hearing to allow the bond to be posted.  This is known as a Source of Bail Hearing.  At this hearing, the defense has the burden of proving that the money that will be posted for the bond is not drug money.
After the bond hearing I met with the friends and family of our client in my office and obtained bank records, pay stubs, tax returns, business documents, and prepared affidavits to prove that the money that would be used to post the required bond was not drug money.  I filed the petition at the first court date in Maywood, which was just a few days after the bond hearing.  Less than a week later the Court held a hearing which lasted over 2 days.  At the hearing I presented live testimony and presented evidence to the court to prove that the bond money was legally and lawfully obtained.  The Court was convinced that the bond money was not drug money and allowed the family to post the bond.