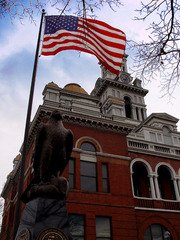 Today we are going to talk about hearsay. The legal term, "hearsay," is one of the most misunderstood legal terms in the law. Last weekend I had a client in my office that I was preparing to testify for a trial that was coming up. I asked the client a couple of questions and the client said that the Court would not allow me to ask that question because it was hearsay. I found myself explaining the term to the client and realize that most people do not really understand the legal meaning and implications of the term "hearsay." So let me explain what hearsay is and how it could impact your criminal case.
Definition of Hearsay
The definition of hearsay law students are given in law school is as follows: An out-of-court statement being offered for the truth of the matter asserted. As a general rule, hearsay evidence is inadmissible in court. Like most other things in the law, there are exceptions to this rule. So unless there's an exception, hearsay is inadmissible. If a statement is hearsay, it does not matter if the statement is oral or written. The reason behind not allowing hearsay evidence at trial is to prevent out-of-court, secondhand unreliable statements, to be used in court given their unreliability. In addition to the inherent unreliability of hearsay evidence, it is unfair to the party against whom this statement is being used because the party is unable to cross-examine and challenge the out-of-court statement that is being used against them.