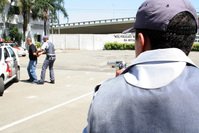 This is a very frequent question that I get from people that call me. They want to know how the police can arrest them without any evidence that they did anything wrong. Just because you were arrested by the police and charged with a crime does not mean that you are guilty. An arrest and a criminal charge is just an allegation. The police officer who arrested you, and the prosecutor that charged you with a crime, believe that you did something wrong. Now they must prove you guilty beyond a reasonable doubt in court. There's several things that you can do to make it more difficult for the police and the prosecutors to prove you guilty in court. Let's talk about some of the things that you can do to help your case.
First, let's talk about something you should not do. You should not resist the police and give them a tough time. There's no benefit to arguing with the police officer and making their job difficult. All that can do is make the police officer angry and cause them to be a little tougher on you than they might otherwise be. In addition, don't forget that the police officer is armed with a gun. If the police officer feels threatened, he may use physical force against you which never ends in a good way. If you resist a police officer you could be charged with Resisting a Peace Officer, or if you disobey a police officer's instructions, you could be charged with Obstructing a Peace Officer.  While both charges are misdemeanors, they are serious misdemeanors because they carry mandatory punishments which could include mandatory community service or even jail time. Simply pulling away from a police officer while they are trying to place handcuffs on you, or trying to run away from a police officer who is trying to place you under arrest, could result in serious criminal charges. Those criminal charges could stick even if you are ultimately found not guilty of the crime that you were originally arrested and charged with. Plus, if you cooperate with the police officer, the officer may go a little easy on you and may even decide not to arrest you, or even charge you with a crime if they are not sure that you did anything wrong.  Even if the police officer arrests you and charges you with a crime, the fact that you cooperated with the police officer and did not give them a hard time could help you when it comes to talking to the prosecutor who is handling your case in court. The prosecutor is much more likely to go easy on you if the police officer tells them that you cooperated with them and did not give them a hard time.
The next piece of advice that I commonly give clients is to exercise their constitutional right to remain silent. I commonly see people who are arrested trying to talk themselves out of it. It almost always ends up being a bad move. If a police officer thinks that you did something wrong, you can talk to them until you are blue in the face and you will not be able to stop them from arresting you. For instance, if a police officer pulls you over and suspects that you have been drinking and the officer believes that you are drunk, the officer will take you down to the police station so that you can take a breathalyzer test. No amount of arguing and pleading with the police officer will change anything. What is more likely is that during the course of trying to convince the police officer that you should not be arrested, you are likely to say something to the police officer that could be used against you later on in court. An example is if you tell the police officer that you only had a couple of drinks and that you are fine to drive. Admitting that you have been drinking can be used against you in court later on to prove that you are guilty of a DUI.