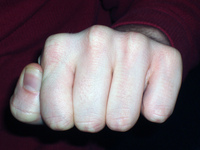 An Introduction to Domestic Battery in Illinois
A criminal charge of Domestic Battery is a very serious criminal offense in Illinois.  In recent years, public attention has been focused on Domestic Violence.  I noticed the increased attention on Domestic Violence cases after the infamous OJ Simpson case. State legislatures throughout the United States have passed laws which seek to punish crimes like this more severely and to try to put an end to this crime. This is true in Illinois as well.  Laws have been changed to make it easier for a spouse to obtain an Order of Protection.  Laws have been enacted to require the placement of GPS tracking devices on people have been ordered to stay away from victims.  Penalties for Domestic Battery crimes have been stiffened to impose harsher penalties on people convicted of Domestic Battery. Local prosecutors have established units within their offices that specialize in prosecuting Domestic Battery crimes and specific courtrooms have been established in most counties that only handle cases like this.
This article will discuss what the crime of Domestic Battery involves and the possible penalties.