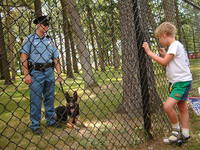 The short answer to this question is maybe.  But whether you would be convicted of a Domestic Battery for simply slapping your child is a different question.  This issue is a little complex so let me take a little time to explain what's involved with this question.
You could be charged with a Domestic Battery in Illinois if you intentionally or knowingly make physical contact with another person that causes bodily harm or is of an insulting or provoking nature.  What makes slapping your child a "Domestic" Battery is that the victim is a family member.  Slapping a child clearly fits the statutory definition of a Domestic Battery. But the rules are applied differently when the physical contact involves the discipline of your child.
In 2002, the Illinois Court of Appeals considered this question and issued a decision which carves out an exception when the contact with the family member involves disciplining a child.  The case is People v. Roberts, 351 Ill.App. 3d 684 (2002). The case involved an incident that began with an argument between a daughter and her mother.  The father arrived home to find the two in the midst of a heated argument.  The argument escalated and the father became involved in the dispute by grabbing the 16-year-old daughter by the hair which resulted in an injury to her eye.  The police charged the father with a Domestic Battery because they claim that what he did, grabbing her by the hair, was without legal justification and fell under the elements of the Illinois Domestic Battery statute.  The case proceeded to trial.  At the jury instruction conference the lawyer for the defendant father requested that the court include a jury instruction instructing the jury that the defendant father could be legally justified in using reasonable force to discipline his child. The court denied the request because the Illinois Domestic Battery statute does not specifically allow for this defense.  The defendant father was ultimately found guilty of Domestic Battery by the jury and appealed the conviction by claiming that the trial court made a mistake by not including this instruction in the jury instructions.  The Court of Appeals overruled the trial court and threw out the Domestic Battery conviction because it found that the trial court should have included the instruction letting the jury know that "a parent is legally justified in using reasonable force when necessary as part of reasonable discipline of a child." The court agreed that the statute does not specifically allow for this but applied the common law and established this defense to a Domestic Battery charge in Illinois involving the discipline of a child.