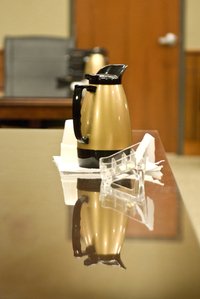 Many of the people that I have represented in my 25 years of being a criminal defense lawyer have no criminal record and have little, or no experience, with the criminal justice system. For many people, the thought of facing criminal charges can be a daunting and scary experience.  In addition to providing legal services in court, one of my main responsibilities as a criminal defense lawyer is to explain the legal process to my clients and to make sure they fully understand what is happening, and what will be happening in the future.
If you are being charged with a misdemeanor offense, a bond will be set at the police station by the police department.  Depending on what you are being charged with, and your criminal record, the Bond could be anywhere from an I-Bond, or a minor cash Bond.  An I-Bond is commonly known as a Signature Bond.  With an I-Bond, no money needs to be posted.  You just sign the Bond paper promising to appear in court and to not commit any criminal offenses. An exception to this is if you are charged with a Domestic Battery.  You may be taken to court for a bond hearing if you are charged with a Domestic Battery, especially if the State will be seeking an Order of Protection or wants the Court to set special conditions of Bond which forbids you from making contact with the Complaining Witness.  But if you are charged with a felony, you will be brought to court as soon as possible, and the judge will set a Bond. The first court date after your Bond Hearing will be a Preliminary Hearing date.  I want to take this opportunity to explain what a Preliminary Hearing is and what will happen at the Preliminary Hearing.
Basically, a Preliminary Hearing is a short hearing before trial, before a judge, to determine whether probable cause exists to believe that a crime was committed and that you are the one that committed that crime. Probable cause, for Preliminary Hearing purposes, is different than what people commonly consider probable cause to be.  For Preliminary Hearing purposes, probable cause simply means that the judge is convinced by a preponderance of the evidence, more probably true than not true, that there's enough evidence to charge you with a crime and eventually put you on trial for that crime.
Strict time limits for a Preliminary Hearing apply.  If you are in custody, the Preliminary Hearing must happen within 30 days of your arrest.  If you are free on bond, the Preliminary Hearing must happen within 60 days of your arrest.  However, if the state does not hold a Preliminary Hearing within these strict time limits, this does not necessarily mean that your case will be dismissed forever.  In most cases, if they do not hold the Preliminary Hearing within 30 or 60 days, the State will Strike the Case With Leave to Reinstate (SOL), which usually means that the case is over.  But it more serious cases, the state will go to a Grand Jury and at least attempt to indict you by Grand Jury.
The Preliminary Hearing stage of a criminal case is a very important part of a criminal case that requires the services of an experienced and knowledgeable criminal defense lawyer.  There's several reasons why you need a good lawyer for a Preliminary Hearing.  First of all, it's the first chance that you and your lawyer will get to confront the state and challenge their case.  It's the first chance that the state gets to show their cards and test the strengths of their case.  It's an opportunity for you and your lawyer to see what evidence the state has and what they don't have against you.  A court reporter will be recording all the questions asked and the answers provided by the witnesses.  If a witness changes their story at trial, the statements made by the witness at the Preliminary Hearing can be used to show that they are not telling the truth.  A second reason that it is important to have an experienced and knowledgeable Preliminary Hearing criminal defense lawyer by your side at a Preliminary Hearing is because if the state is unable to meet the strict time requirements in which to hold a Preliminary Hearing, and the State is forced to SOL their case, an experienced and knowledgeable Preliminary Hearing criminal defense lawyer will know what to do to start the clock ticking on limiting the amount of time that the state has to indict you by a Grand Jury.
The conduct of a Preliminary Hearing varies from County to County and from Courthouse to Courthouse. Generally, Preliminary Hearings are short and relaxed rules of evidence apply.  Preliminary Hearings are much more common in Cook County whereas they are much less likely in DuPage County, Kane County, and Lake County. DuPage County, Kane County, and Lake County rarely hold Preliminary Hearings in felony cases. They regularly go to Grand Juries to indict defendants in criminal cases.
James Dimeas is a nationally-recognized, award-winning, Preliminary Hearing lawyer. James Dimeas has been handling Preliminary Hearings throughout Chicago, Cook County, DuPage County, Kane County, and Lake County for over-27 years. James Dimeas was been recognized as a "Best DUI Attorney." Expertise named James Dimeas a "Best Criminal Defense Lawyer in Chicago." The American Institute of Criminal Law Attorneys named James Dimeas a "10 Best Attorney for Client Satisfaction." The National Trial Lawyers named James Dimeas a "Top 100 Criminal Defense Trial Lawyer." The American Society of Legal Advocates named James Dimeas a "2018 Top 100 Lawyer." AVVO rates James Dimeas as "Superb", the highest rating possible for any Preliminary Hearing lawyer in the United States.
If you are facing criminal charges and need an attorney for a Preliminary Hearing, you can contact James Dimeas anytime for a free and confidential consultation. You can always talk to James Dimeas directly by calling him at 847-807-7405 for a personal consultation.
Additional Resources:
Illinois Preliminary Hearing Statute, 725 ILCS 5/109-3.