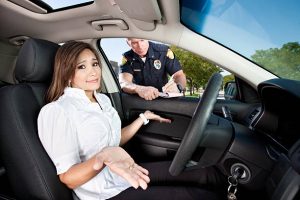 Over the holiday weekend, the Schaumburg police conducted their annual "Drive Sober or Get Pulled Over" enforcement campaign. The enforcement campaign ran from December 16 to January 2. The annual campaign is run by the Illinois Department of Transportation and is managed funded by the National Highway Traffic Safety Association, which provides the funding for the campaign. Most of the local police departments in the area participated in the campaign. The funds allowed the Schaumburg Police to add four additional units to be dedicated to enforcing the traffic laws during the campaign.
The Schaumburg Police released their numbers last week. The vast majority of citations issued were for Distracted Driving. That is not surprising. I have seen a drastic increase in the number of tickets issued for Distracted Driving in recent years.. Distracted Driving is what is commonly known as "texting and driving". However, there's much more to distracted driving than just texting. Authorities have been struggling with trying to curb the use of cell phones while driving. Numerous studies throughout the years have shown that using a cell phone while driving is more dangerous than drinking and driving. When cell phones started becoming popular, the state legislature made it illegal to text while driving. That's why any new laws or rules having to do with the use of cell phones by drivers are commonly associated with texting. After the initial texting and driving laws were passed, authorities realized that much more needed to be done. The cell phone rules were tightened, and today, the rules against using a cell phone while driving are much more strict than ever. It is against the law to use a cell phone when driving as long as the phone is completely hands free. As a general rule, touching your cell phone while you are driving can land you a date in Traffic Court. There are some very limited exceptions to the general rule, but officers have become increasingly diligent and aggressive when it comes to enforcing the cell phone laws. On any given day in Traffic Court, it is not uncommon to see that a large percentage of citations issued are for Distracted Driving. When the first cell phone laws were passed, the punishment for getting caught was a fine that was not reported to the Secretary of State so it did not affect your license. The current laws have made a ticket for Distracted Driving to have the same effect on your license as any other traffic tickets. Distracted Driving tickets are reported to the Secretary of State and these tickets can count points against your license, just like any other ticket.
Only one speeding ticket was issued by the Schaumburg Police during the campaign and 1 DUI occurred during the campaign over the holiday.  The only DUI arrest was For Driving Under the Influence of Drugs. When Illinois legalized the recreational use of Marijuana, authorities were concerned that it would cause a big jump in the number of people charged with a DUI for Driving Under the Influence of Cannabis. That did not materialize. While it became much more common to see DUI cases involving the use of Marijuana, I have not noticed a big increase in such cases. It is not very common to see DUI cases involving marijuana.
During the campaign, citations for seatbelt violations, child restraint, and driving while revoked. All Schaumburg traffic citations are heard at the Rolling Meadows on Euclid Avenue.
James Dimeas is a nationally-recognized, award-winning, DUI lawyer and Traffic lawyer, with over 31-years of experience handling DUI and Traffic cases throughout Chicago, Cook County, DuPage County, Kane County, and Lake County. Recently, James Dimeas was named a "Top 100 Criminal Defense Lawyer in the State of Illinois for the years 2018, 2019, 2020, and 2021" by the American Society of Legal Advocates. James Dimeas was named a "Best DUI Attorney", a "Best DUI Lawyer in Schaumburg", and a "Best Criminal Defense Lawyer in Chicago" by Expertise. James Dimeas was named a "Top 100 Criminal Defense Trial Lawyer" by the National Trial Lawyers. The National Academy of Criminal Defense Attorneys gave James Dimeas the "Top 10 Attorney Award for the State of Illinois". James Dimeas is rated 'Superb' by AVVO,10 out of 10, the highest rating possible for any DUI lawyer in the United States. The American Society of Criminal Law Attorneys named James Dimeas a '10 Best Attorney for Client Satisfaction." Attorney and Practice Magazine gave James Dimeas the "Top 10 Criminal Defense Attorney Award for Illinois."
If you are facing criminal charges, you can contact James Dimeas anytime for a free and confidential consultation. You can speak to James Dimeas personally by calling him at 847-807-7405.
Additional Resources:
Schaumburg Police Release Holiday Enforcement Numbers, by Eric DeGrechie, Arlington Heights Patch, January 25, 2023.
Additional Blogs:
What is Distracted Driving, by James G. Dimeas, Chicago Criminal Lawyer Blog, September 9, 2021.
Illinois Now a Hands-Free Zone. Cell Phone Usage for Motorists Prohibited, by James G. Dimeas, Chicago Criminal Lawyer Blog, July 10, 2019.