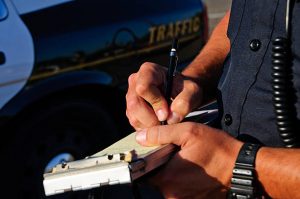 The Public Safety Committee for the Village of Schaumburg has recommended that the Village of Schaumburg allow police officers to write local Municipal Violation tickets for first-time negligent driving offences. The measure is intended to go after drivers who are using hand-held cellphones while they are driving instead of hands-free devices. Village officials claim that the judges at the Rolling Meadows Courthouse are taking these tickets too lightly and not punishing offenders enough.
If this measure is adopted by the Schaumburg Village Board, police officers will have the option of writing a local Municipal Ordinance Violation ticket, issue written warnings, or issue a State Citation for a ticket violation which allow offenders an opportunity to go to Court and contest the ticket in Court, in front of an actual Judge. The fine for the Schaumburg Municipal Violation will be $75.
What's a little troubling about this proposal is that the Public Safety Committee is proposing that the definition of negligent driving be defined more broadly than what current state law defines as negligent driving. According to one of the trustees of the Schaumburg Village Board, "the definition of negligent driving can be relevant even when an officer can't prove a handheld cell phone was the cause." In other words, if the police officer had a hunch, or was guessing, based on his experience, that a handheld device was being used, that would be enough to allow them to issue a ticket. I would like to see what the final ordinance says, but it seems to me as if officers will be allowed to issue these tickets based on a mere hunch without any proof. That does not seem very fair to me and could be open to a legal challenge which could cause Schaumburg's taxpayers to pay the legal bills for a court fight.